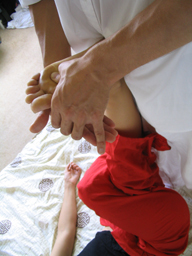 Traditional Thai Massage is a 2500-year-old technique for relaxing the body and quietening the mind. It can help to relieve many physical problems such as back pain, tense shoulders and neck, stiffness, poor posture, indigestion and sciatica as well as more mental problems like stress and lethargy.
The basic form of the massage is performed fully clothed (no oils are used) on a mat on the floor. The technique involves putting gentle but firm pressure on your body with the palms and thumbs, as well as relaxing stretching of the limbs and back. Thus it works effectively on skin, muscle, the organs and the skeletal structure, and strongly encourages the 'letting go' process that creates deep states of relaxation and sometimes even emotional release.
Another variation on the basic form is a traditional Thai ayurvedic oil massage. The client must wear minimal or no clothing, and I use oil appropriate to your dominant dosha (if you know it).
I also give Thai Herbal Hot Pack Massage (for well-established clients only), which involves the use of steamed herbal packs with which I drive heat into skin and muscles, loosening tension dramatically and chasing away the cold feeling which can often linger in our bodies, especially in wintertime.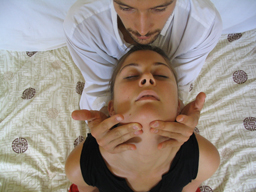 Health coaching is an essential part of a course of treatment, because massage is only one tool in a strategy to improve ones health; it cannot work alone, and furthermore it must be aligned with your real focus and direction. Together, we can determine where you want to go, and form an approach designed to take you there.
I give treatments at my home in Newbury Park (East London) and I am also happy to make house calls provided they are less than one hour's journey from me (at additional cost).
A full Thai massage lasts one-and-a-half hours and is £70.
Thai Ayurvedic massage (with oil), also 1.5 hours, is £75.
Herbal Hot Pack massage (1.5 hours) costs £90.
House calls are an additional £15 per visit.
You can also have 1 hour treatments:
1hr 'normal' Thai is £50
1hr Thai Ayurvedic is £55
The normal house call rate of £15 (see above) still applies.
1hr Herbal Pack treatments are not available.
I am a qualified massage therapist with a Diploma from the Seven Star School of Traditional Thai Massage. I have held my Diploma since April 2003 and have been vigorously practising the technique ever since. I have been teaching Thai massage since May 2005.


For appointments or further information please contact me.